I have been curious about Blue Apron for a long time.  I keep seeing the advertisements, and I think, hmm.  Can it REALLY be that good?  Can it really be worth it?
I already know how to cook, and I cook at home a lot. But like most people I often get in the rut of cooking the same familiar recipes all the time.  I wondered how the price of a meal service would compare to my ordinary grocery shopping, and I also wondered if the recipes would be something that my family would actually eat. It was time to find out.  This is not a sponsored post– I paid for this subscription myself.  You can know that all of these opinions are truly mine, because no one is paying me to say them.
What are we waiting for?  Let's do this!
Blue Apron Review
The thing I wondered about most, when signing up for Blue Apron, was whether my family would like the meal choices.  I have 2 picky kiddos, and I wasn't sure if they would like trying meals that were unfamiliar.  (What– your kids don't beg for chicken nuggets at 9 AM?  Is that just me?  haha).
When I first logged into my Blue Apron dashboard, I could see the choices for several weeks to come.  I felt like the 8 choices offered per week were ample.  You can click on each photo of the recipe and see what's in it, if you are unsure if you will like it.
Unlike some services, all of the meals were the same price.  There was no upcharge for any of them (some services charge extra for pricier cuts of meat, for example). If there is not anything that you like for a particular week, you can skip that week, completely, as often as you like, without being charged.  The site was very easy to figure out, and the pictures were nice and bright so that I could tell what was on each menu.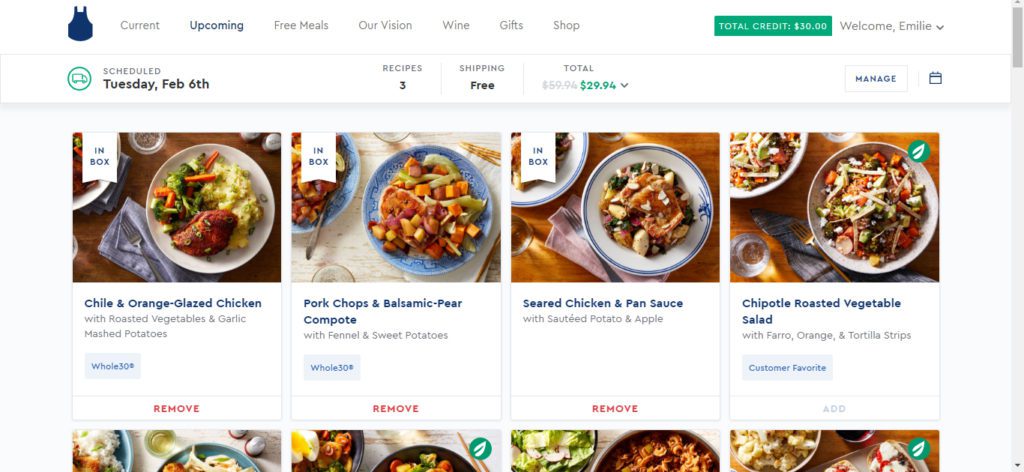 Price
The cost of Blue Apron right now is $59.94 ($9.99 per person) for 3 different meals (on the 2 person plan) per week. Shipping is free.  You can also upgrade to the family plan ($104.88 per week (or $8.74 per person).  When you sign up you get 3 meals for free, which means you pay roughly $60 for 6 meals.
So with the beginning discount, you're paying roughly $10 per meal, for 2 people.  Not bad.  After your starting discount, you will be paying roughly $20 per meal, for 2 people.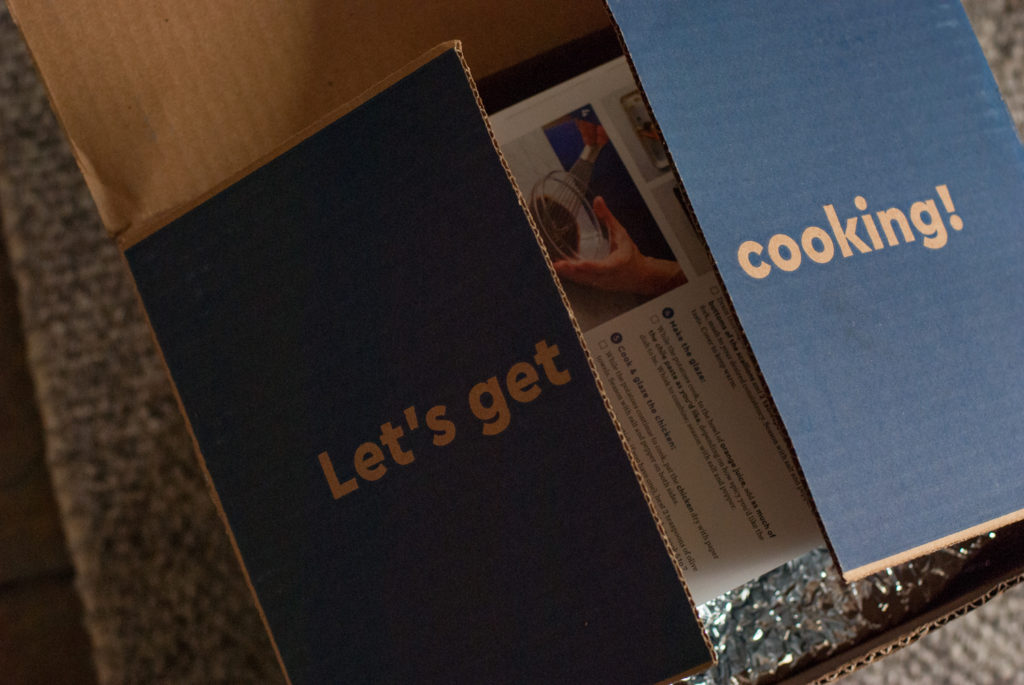 Shipping
Shipping at Blue Apron is always free (as opposed to some delivery services which may charge shipping based on the cost of your order).  It's nice to know that your order is always shipped for free, no matter the size.
My first box arrived promptly on the time and day I selected.  It was super cute, with a nice blue welcoming message when I opened it.  I was so excited to see what was inside.  It was well packaged with an ice pack so that it would have kept nicely if I had been away from the house.  It was also in a thermal bag, for further protection from the elements until its owner (me!  yay!) arrives.
Packaging
Which brings me to packaging.  I was quite impressed with the packaging.  When I opened the box my recipe cards were on top of the thermal type bag.  There was a huge ice pack at the bottom of the bag, and the meat (somewhat frozen) was on top of that.  I'm not sure if the meat was frozen when they put it in the package, or whether the ice pack froze it, but either way, I was confident that it was fresh.  There was a cardboard insert dividing the meat from the vegetables, on top. I loved that– not only was the meat separate from the veggies, avoiding cross contamination, but the vegetables weren't frozen because they weren't sitting directly on the ice.  I also found that the more delicate ingredients (like kale) were on top, while the tougher ingredients (like sweet potatoes) were on the bottom, minimizing crushing.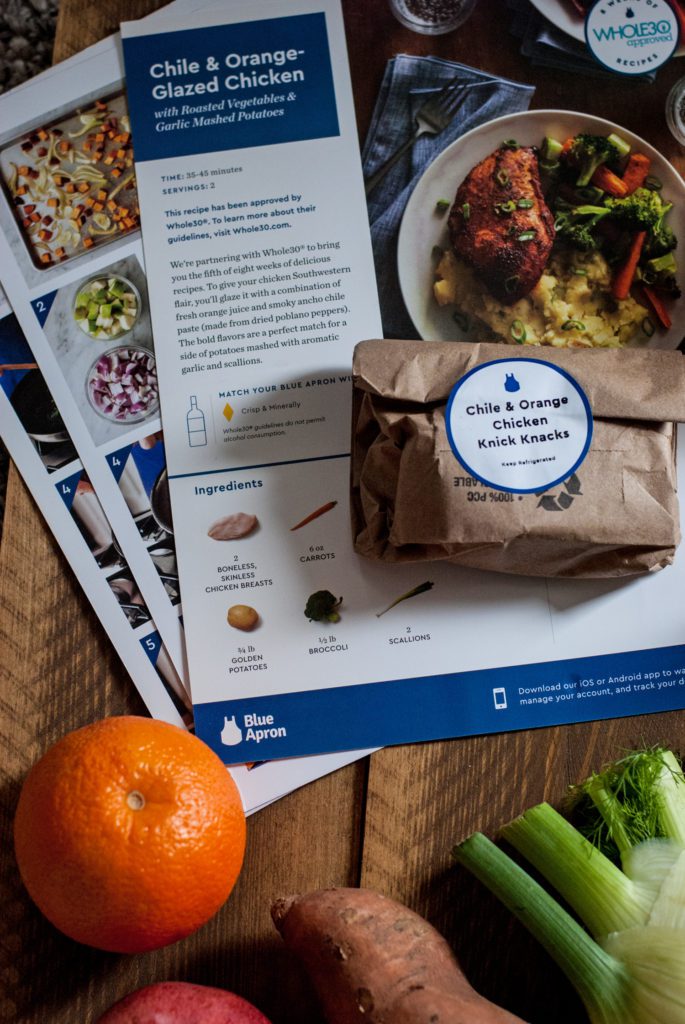 Recipe Cards
The recipe cards were sturdy cardstock, and I didn't feel like they were going to rip or tear while I was cooking.  In fact, a few times during cooking I spilled on the cards, and they held up like champs.  I loved the little "knick knacks" bags.  These contain things like seasonings and spices– random little items that wouldn't really fit anywhere else.  Unfortunately, one of my sauces had ruptured during shipping and spilled a little bit over the knick knacks bag.  But I contacted customer support via email (yay!  No waiting on an endless "your call is important to us *tacky elevator music* help line!), and they were great about crediting my account for the ruptured sauce.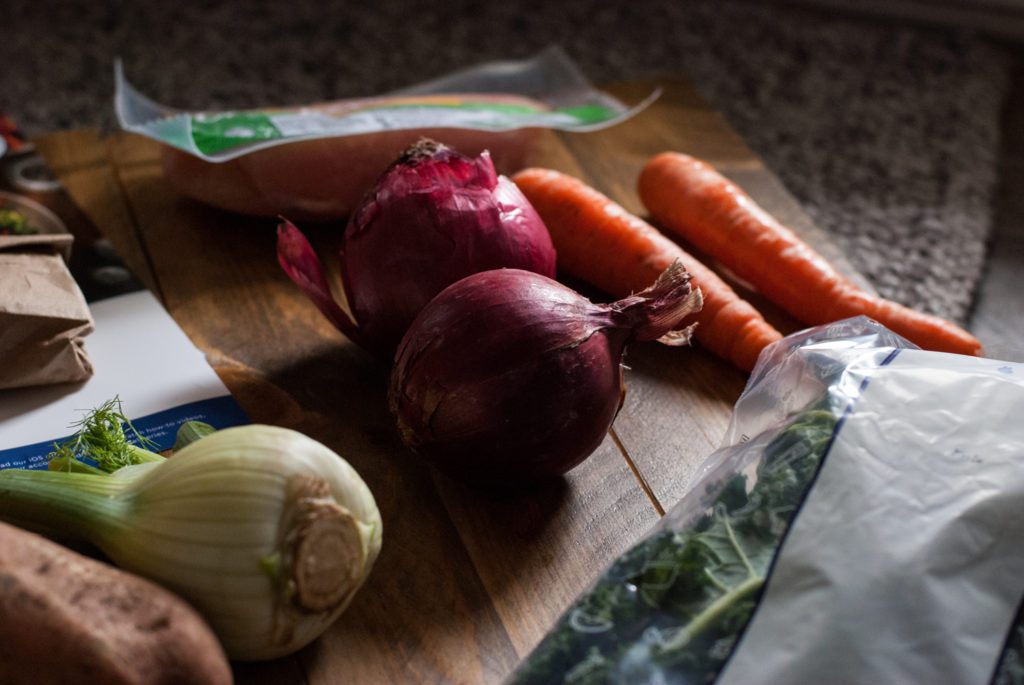 Ingredients:
I was pleasantly surprised by the ingredients.  They all appeared to be fresh and firm, without any rotten products or overripe produce. Some things were wrapped individually (like kale), while others were free (like potatoes and onions).  Everything was clean (I still washed), and I liked that I wasn't getting clumps of dirt from the potatoes all over everything.
Unfortunately, I was missing an ingredient (scallions).  But when I contacted customer support they quickly and cheerfully refunded this ingredient for me.  Another thing that I noticed was that the recipes called for olive oil, salt, and pepper. Luckily I had these things, but when the kit advertises that everything is included, I was surprised that I was expected to have these ingredients on hand. It would be disappointing to be a new cook and get ready to prepare dinner, and then discover that I didn't have everything I needed.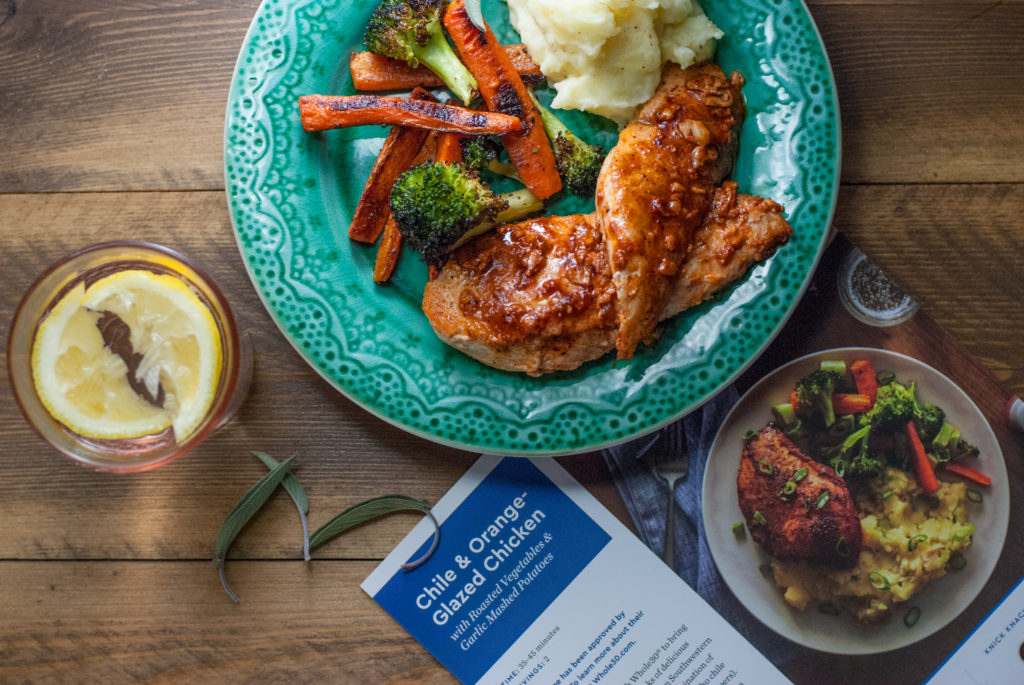 Starting the Recipe
I read through the recipe card (Chili and Orange Glazed Chicken) before I started cooking.  Everything seemed straightforward enough.  I appreciated that there was guidance on basic skills, such as how to peel and mince garlic (great to know for people just starting to cook), as well as suggested wine pairings and garnishes for the finished dish.  There were easy to follow directions and photos along the way.  I ended up changing my recipe slightly (because the scallions were not included), but it still turned out beautifully and very similar to the photo.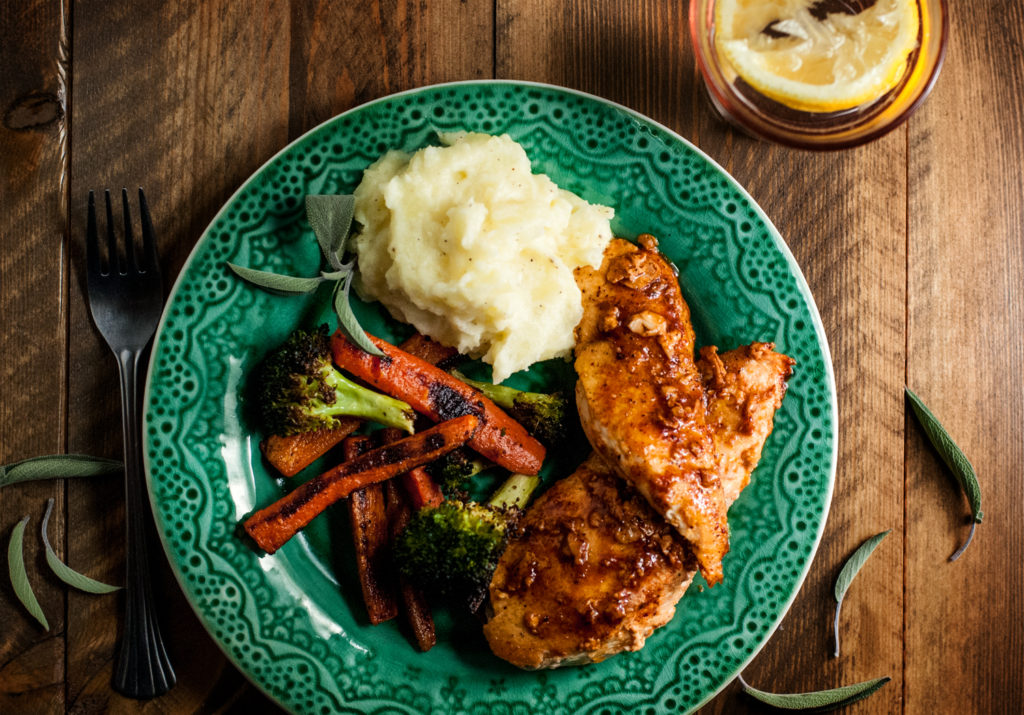 Time
The recipe has an estimated time on it– and this one estimated 35-45 minutes.  I felt like the timeline was just about right.  I am an experienced cook, but I took my time.  I would say it took me about 45 minutes from beginning to end, but I was savoring the experience and not rushing.  Adding my own personal spin.  Chasing kids and doling out goldfish crackers. Taking photos.  So I think if I would have buckled down and focused I could have easily done it in 30-35 minutes.  I think a cook of any skill level could finish this meal in just about the time allotted.  And it's nice to know that you can come home from work and get a nice, well balanced dinner on the table in little more than half an hour.  Very, very nice.  🙂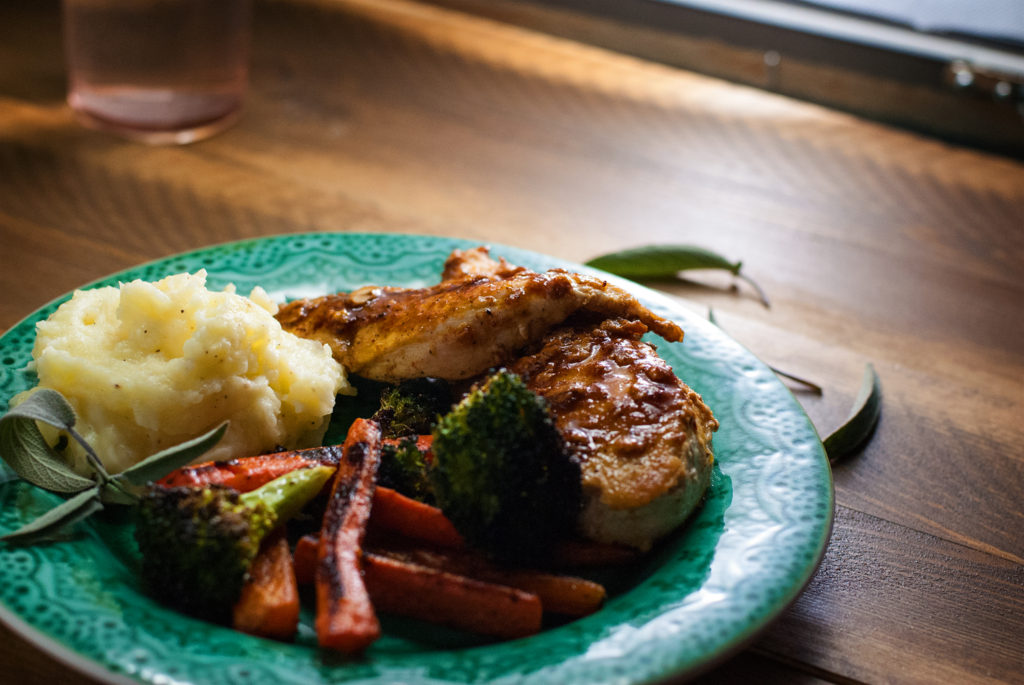 Portion Sizes
Now, this is not a paid review. This is just my own honest opinion. And yours may be different.  But I want to tell you all my thoughts and not leave anything– positive or negative– out.  Let's talk portion sizes.  Personally, I felt that the portion sizes were quite small.  We were given 2 small carrots and a head of broccoli for the roasted vegetables.  After I peeled and diced the carrots, and pared and cut off the broccoli florets, I had about 1 heaping cup of vegetables.  After roasting, that would have even been a little bit smaller.  This means that each person got about 1 spoonful of vegetables. It might be a serving.  But I love to fill up on vegetables, and it wasn't enough for me. There was also a single chicken breast which was to be split among 2 people, and 2 potatoes to cook and mash.  I think this meal would have made 2 saucer-sized servings (maybe ok for ladies, not so much for a man).  And if I wouldn't have shared with the hubby he would probably have starved to death. haha.
That being said, it was easy enough to grab a few extra carrots and an extra chicken breast from my own refrigerator and add them into the mix, using the included recipe and spice pairings.  And I did this, to make the meal suitable for my kids, too (they don't eat much so I didn't think it was worth doing the family plan).  My conclusions are that (1) the portions are a little on the small side, and (2) you can fairly easily supplement with ingredients from your own kitchen if you want to make the meal stretch to feed a family, rather than 2 people.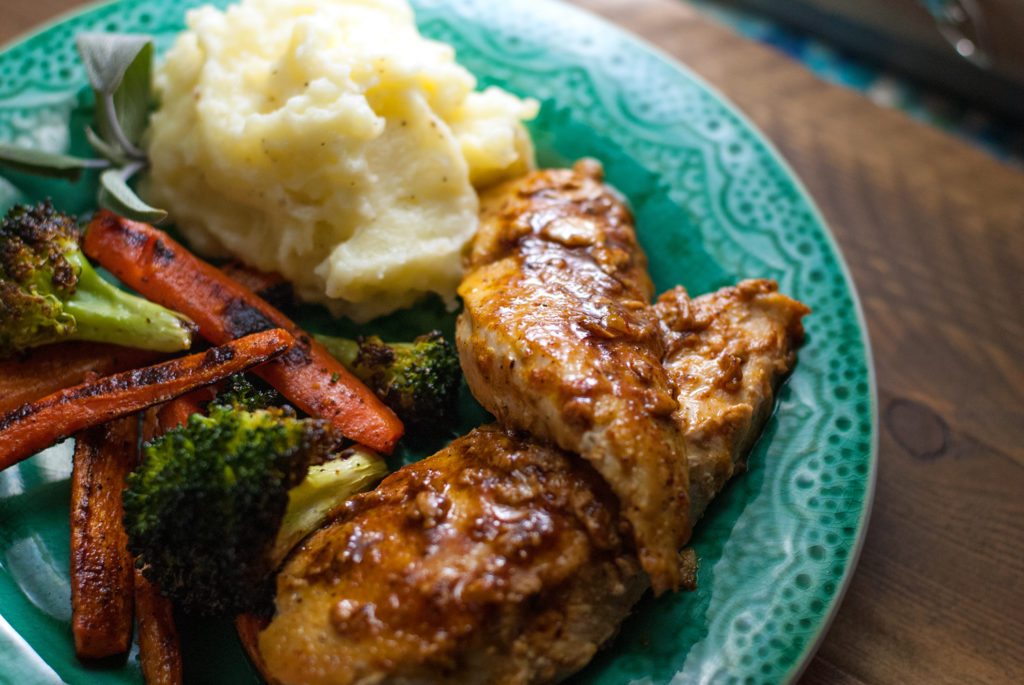 Taste
The reason I did Blue Apron in the first place was because, like many of us, I get sick of making the same old thing for dinner every night.  I get in a rut and feel like I make the same 4-5 meals over and over. I wanted to try something different and not have to think "Oh gosh it's 1 hour until suppertime. What should I make?"  And I have to say, on taste, Blue Apron absolutely delivers.
I was interested to try the orange chili spice on the chicken– spicy foods are not normally ones that I make. I enjoyed that I could adjust the spice level to my own tastes (I'm a spice wimp. Sorry).  This was definitely not something that I would have tried, on my own, and I was extremely and pleasantly surprised by how delicious it was.  I love that the recipe cards are durable enough that I can hang onto this and make it again, sometime.  Overall, it was a delicious meal, and I'm very glad I got to make it and taste something new and different to change up the same old meal routine.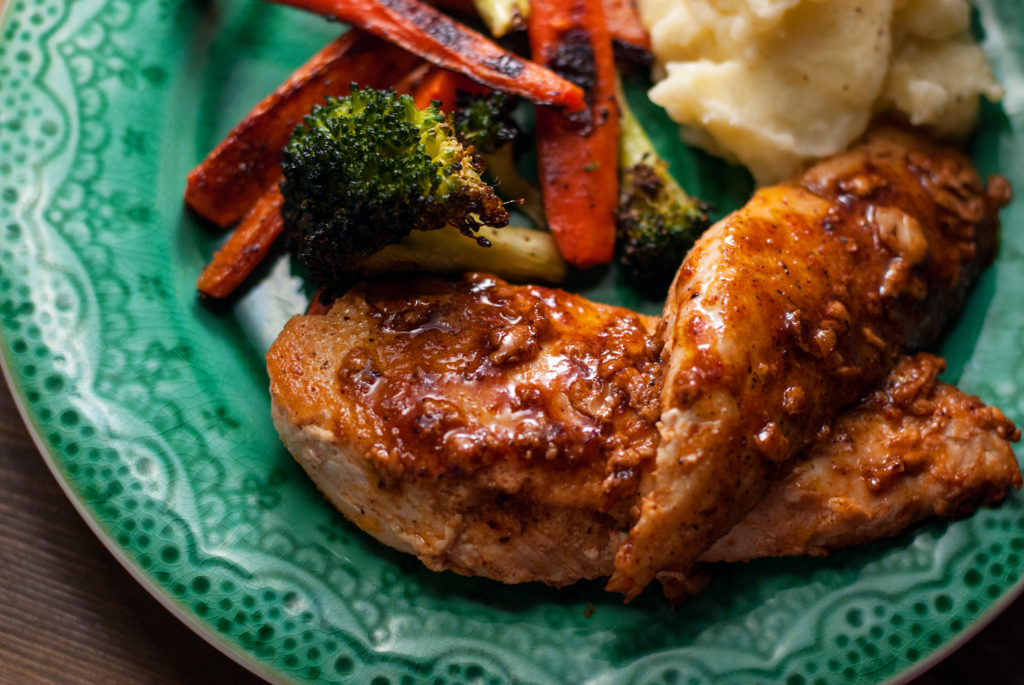 Bottom Line
I hate reviews that say "do this today" or "don't do this in a million years."  Everyone is different.  Our cooking skills, time, extra spending money . . . all different.  It's much better to tell you what a service is like, and let you decide if it works for you, based on your individual needs.  So, for what it's worth, here's my 2 cents:
People who would love Blue Apron, in my opinion:
 People who love to cook, and want to try something new and different
People of decent cooking level who feel like you make the same things over and over again for dinner
People who know how to cook, but are super busy and want to come home and not have to decide what to make
People who enjoy experimenting with different flavors and tastes
People who want to learn how to cook, and don't mind reading directions and trying something new
People who already have a well-stocked pantry and can easily supplement ingredients if one is lost, or if you decide you want larger portion sizes to feed your family
People who would not like Blue Apron, in my opinion:
 People who don't cook very often and just want something quick to put together, without fancy prep work or exotic flavors
People who like a hearty, simple meal at the end of the day, rather than tasting a variety of small, new foods
People who don't want to do a lot of prep work (slicing and peeling vegetables, searing meat, etc) to get the meal on the table
People who don't cook much and don't have extra ingredients on hand to supplement or use for the basic meal preparation if an ingredient is lost or if the portion sizes are not substantial enough
Well there you have it, folks.  The bottom line for anything you try is, (1) are you glad you tried it?  And (2) would you try it again?
Yes, I am definitely glad I tried it. The service was fun, the meals were different and tasty, and I easily supplemented ingredients for the missing ones and the pieces of the meal that I felt were not large enough.  Would I do it again?  Absolutely.  I don't know that I'll be doing this weekly, but with the ease of cancelling weeks and selecting which meals I want to make, it is a fun idea for dinner time that is outside the box.  Literally.  And with the introductory reduced price offer, you really can't lose.  I say give it a try today, and see what you think.
And don't forget to wear your apron. 😉
You did it. And I'm just so proud of you.
---

---
Disclosure: This post may contain affiliate links, which just means that we get a few pennies if you purchase through our link. I never recommend products that I don't personally use and love. Thanks!