These brownies have an interesting story. The basic chocolate layer was invented by a woman who had 10 children and made brownies every day.  And even though the brownies are sinfully decadent and delicious, on their own, the addition of a heavenly cream cheese topping just takes them from "These are SOOOOOO delicious *eyes roll back in head" to ________________________
I'm sorry.  I just passed out.  YUM.
What are we waiting for?  Let's do this!

Heavenly Cream Cheese Brownies
Brownie Ingredients:
1 1/2 cup cocoa
1 cup butter or margarine, melted
1/2 cup canola oil
5 eggs
3 cups sugar
1 tbsp. vanilla
1 1/2 cup flour
1/2 tsp. salt
1 cup add-ins of choice (chocolate chips, pecans, etc), optional
Cream Cheese Topping Ingredients:
1 (8 oz.) package cream cheese, softened
1/4 cup white sugar
1 egg
1 cup white or semi-sweet chocolate chips
Directions:
To make the brownie layer, mix melted butter, oil, cocoa, and sugar together.  Add vanilla and egg and beat to combine.  Stir in flour/salt.  Stir in flour-coated add-ins, if desired.  Pour into foil lined, greased 13×9 pan and prepare the cream cheese layer.  Beat cream cheese and sugar together until smooth.  Add in egg and mix well, scraping the sides to ensure that all the cream cheese is mixed in.  Stir in the white chips and place batter, with a cookie scoop or spoon, overtop of the brownie layer. Gently swirl 2 batters together with a butter knife in a pretty pattern, if desired.  Cover with foil and bake at 350 degrees for roughly 45 minutes.  Uncover and bake for 5-10 minutes more, until done (and top lightly brown but not at all burned).  A toothpick inserted into the center can have a few crumbs on it, but it should not have any gooey batter on it.  Because these brownies are so thick, it can be tough to be sure they are done in the middle, which is why I suggest starting out with foil covering the brownies.  That way you can bake a little longer, if necessary, to get the middle to be done, without overbrowning the cream cheese layer.
Let's take a look at the process in pictures.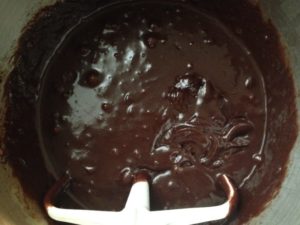 This decadent brownie creation is the brain child of the best brownies I have ever had, here, and then topped with delicious, creamy loveliness.  Take a moment to think about the glory that awaits you, at the end of this.
Is everyone in your mental happy place?  Good.  Let's move on.
To make the brownie layer, mix your melted butter, oil, cocoa, and sugar together.  Add the vanilla and egg and beat everything well to combine, making sure that you scrape the sides to get everything well incorporated.  Mix in your flour and salt, and beat the 'ole batter one last time.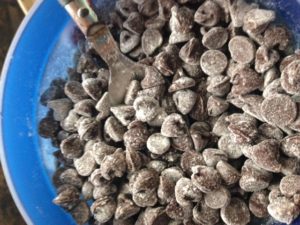 A neat little trick when you're adding berries or chocolate chips to muffins, brownies, or whatever kind of runny batter you're using, is to coat the ingredients with about 1/2 tsp. of flour, before you fold them into the batter.  Coating the "add-ins" with flour keeps them from all sinking to the bottom, during baking. They will be sweetly suspended all throughout the brownies, just waiting to bless your taste buds with chocolate loveliness all the way through.  You're welcome.  (P.S. this works with muffins, too– so no more "losing all the blueberries" when you peel the paper off your muffin, and the bottom sticks to the paper.  You deserve better 😀 )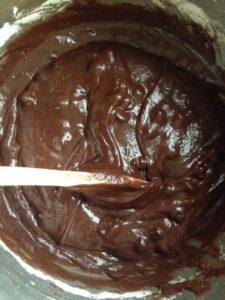 Gently fold in your chips.  Folding just means that you basically give the brownies a "comb-over." Just sweep the batter under and then over the top– wrapping it around and around itself, without actually stirring.  Mmm.  Nice and beautiful and "chippy."  Love it.  Pour your brownie batter into a foil-lined and greased 13×9 inch baking dish and start mixing up the creamy, dreamy topping.  I like to use foil greased with cooking spray, for brownies because then I can lift the entire pan of brownies out when it's time to cut– it's a lot easier to cut nice, square brownies with the pan sides removed.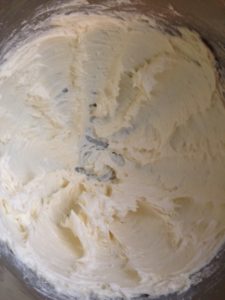 To make the cream cheese layer, start by mixing your cream cheese and white sugar together until they are soft and creamy, with no lumps.  Imagine how nice it would be if you could mix yourself and get all the lumps out.  Yessssss.  (Yes.  I know I tell this joke every time I talk about mixing out the lumps.  This is Dirt telling me "Hey!  You're two days older than I am!"  Yes.  I know. *Hairy eyeball*).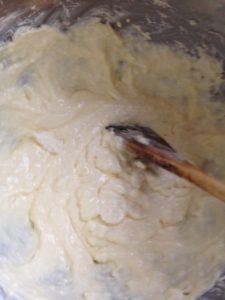 Next mix in your egg and beat everything together.  Scrape the batter down the sides of the bowl halfway through (obviously, stop the mixer before doing this 😉 so that the cream cheese gets completely mixed in.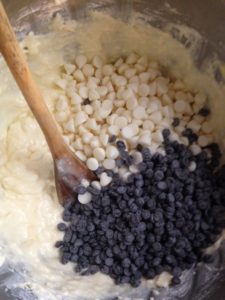 Stir in your chocolate chips, or white chocolate chips.  I did this recipe twice– once with some of each, and once with just white.  The white/dark chips tasted better, but the plain white chips were prettier (the only white chips batch is the one in the finished photos) because it was 2 pure layers of black and white.  But both are delish, so go whichever way the wind blows you, on that one.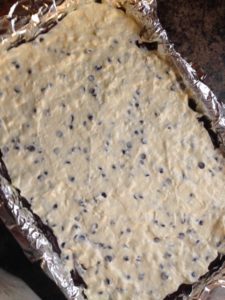 Spread your chip/cream cheese mixture overtop of the brownie batter.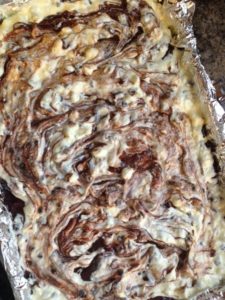 Take a butter knife and swirl the brownie batter and cream cheese layer a little bit.  Channel your inner Picasso and swirl yourself a masterpiece.
Now here's a little interesting fact about these brownies.  Those suckers are THICK.  Therefore, it's really easy to underbake them, especially in the middle, if you're not careful.  To help offset this, I like to cover the brownies with foil for the first 45 minutes or so (at 350 degrees).  That helps the middle to get baked without overbrowning the cream cheese topping.  During the last 10-15 minutes, uncover the brownies,  and don't pull them out of the oven until a toothpick inserted in the center comes out, well . . . not exactly clean, but without any gooey liquidy stuff on it.  It can have moist crumbs, but no liquid.  I hope that makes sense.  If the top is done, but the center is still liquidy, cover with foil, again, and bake 5 more minutes until the center is set.  Remember that the brownies will also continue baking, a little bit, when they come out of the oven, so don't burn your sides crisp trying to get the center perfectly firm.  They will firm up a bit after they stand.  I usually find that, with this thick of a brownie, my edges are crisp, but the center brownies are the "to die for" ones– fudgy and moist and oh-so-delicious.  If you prefer crunchier brownies, I would suggest making this recipe in 3 loaf pans, instead of the 13×9.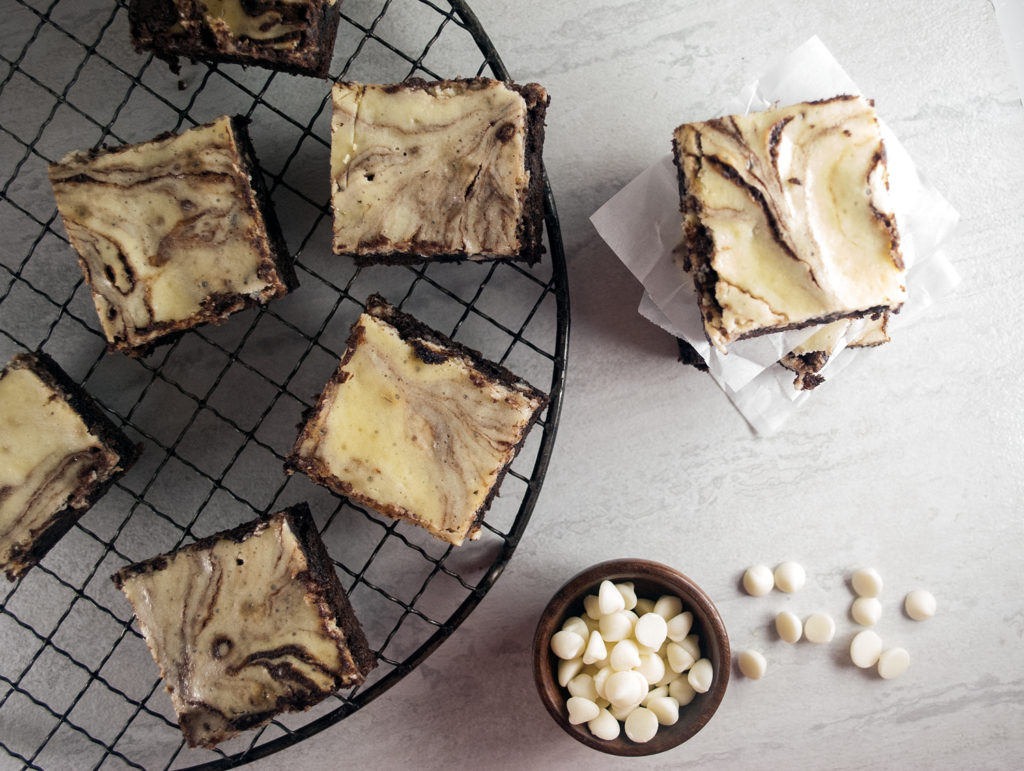 Looking back at the novel I wrote for that explanation, let me just say . . . they're brownies.  They will be delicious no matter how they look 🙂  And just for the record . . . those ooey-gooey fudgy brownies in the center are even better frozen.  Oh my gosh.  Blissssssssssssssss . . .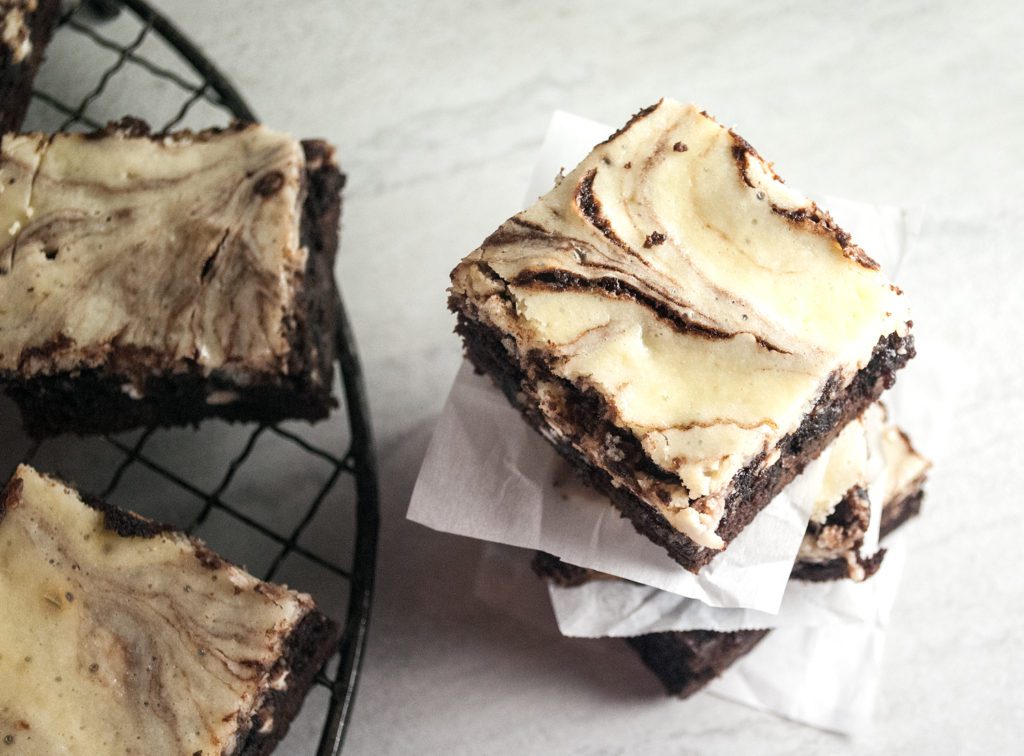 Another way to use up those delicious fudgy brownies in the center, if you accidentally underbake the brownies a touch, is to roll 2 tbsp. of brownie into a ball and roll it in chopped nuts, cocoa powder, or even crushed Oreo crumbs.  Refrigerate these, and you have instant truffles.  Yes.  You get 2 beautiful desserts for the price and effort of one.  Yes, please.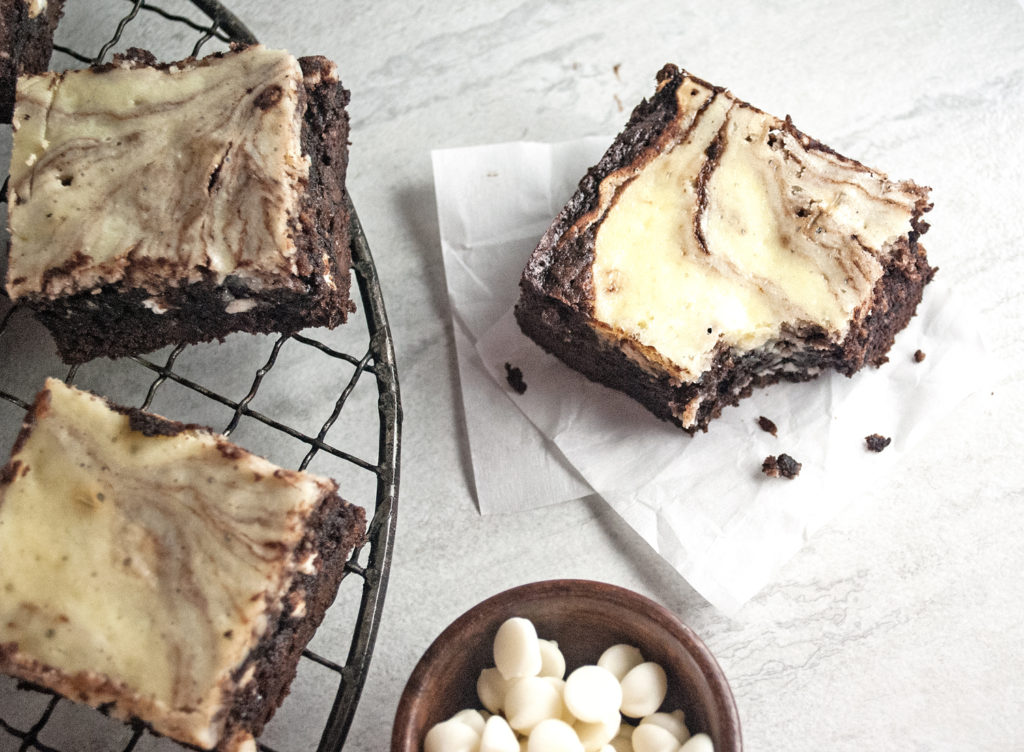 But, really, you can't mess this up.  Because at the end of the day, you will have gorgeous, divinely chocolate brownies with a creamy, gorgeous top.  And if you decide to make truffles, or to create frozen chocolate beauties . . . or to just eat one, plain . . . it will be delicious.
Because you did it.  And I'm just so proud of you.
---

---
Disclosure: This post may contain affiliate links, which just means that we get a few pennies if you purchase through our link. I never recommend products that I don't personally use and love. Thanks!