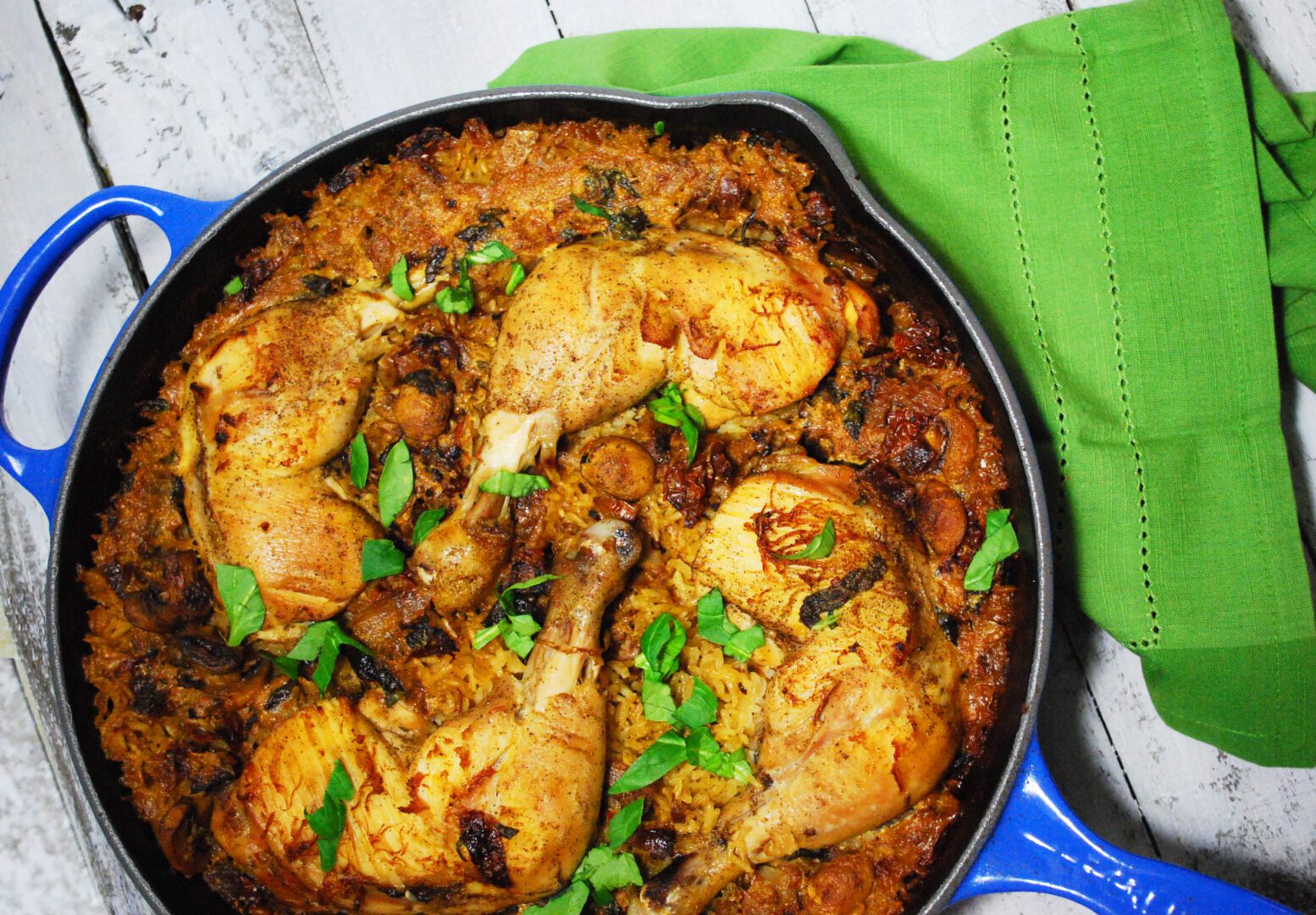 I don't know about you, but sometimes, when I'm short on dinner inspiration (Why do they want dinner every night!!  I just cooked yesterday!), I look around at what I have and look for inspiration.  I might find an unexpected meal brainstorm from a gifted pile of fresh tomatoes from a friend, a container of sweet smelling strawberries from a kiddo strawberry picking outing, or a certain type of herb I have growing that desperately needs a "haircut."  The inspiration for this meal actually comes from my very own grocery store.  Yes. Grocery stores can actually inspire.  Who knew.
On this particular day, I happened upon a display of sundried tomatoes.  Whammo.  If you've never actually handled a sundried tomato, they are kind of weird and slimy looking . . . they look suspiciously like tongues, and you have to dive down into an oil bath to get them.  It's pretty disgusting, to be honest.  But just like the ugly duckling . . . their hideous appearance hides inner greatness.  They pack a wallop of flavor that is unequaled in the tomato world.  Chop a few of these babies up into a dish that you want to get a little . . . ZESTY.  So I grabbed those suckers and came home to see what I could whip up.
As I was slicing those slimy tomatoes, I thought, "I have chicken legs to use up."  So, boom . . . chicken legs were added to the party guest list.  The basil in my little countertop herb garden needed a haircut. Boom . . . another guest has arrived.  Like most good recipes, this one used up what I had on hand and combined to form a dish I'd never tried.  Oh– exploring in the kitchen is so much fun.  Sure– you make tons of mistakes and brave the occasional "This is . . . different . . ." comment from your hubby at supper, but the kitchen is your laboratory.  Don't be afraid to be creative– you never know when you might hit the occasional jackpot recipe by just throwing things together and trying flavor combos you've never tried before. Remember that mushroom soup I made here the other day?  Yep– totally a "let me throw this in here and see how this tastes" recipe.  And it turned out amazing.  So let's do it again.
What are we waiting for?  Let's do this!
Seasoned Chicken Thighs with Sundried Tomatoes and Basil
(original recipe– share away, change it up, and please link back here if you would be so kind, so no one steals my work 🙂
Ingredients:
4 whole chicken legs
2 tbsp. olive oil (divided)
Salt and Pepper
1 tbsp. minced garlic (about 4-5 cloves)
1 onion, chopped
1 cup chopped white mushrooms
5 sundried tomato slices, finely chopped
2 tbsp. lemon juice
1 tbsp. white wine
1.5 cups white rice
2 cups water
2 cups milk
4 tsp. chicken bouillon
1.5 tsp. pepper
1/2 tsp. salt
2 tbsp. fresh basil, or 1 tsp. dried basil
Directions:
In a large cast iron skillet, salt and pepper chicken thighs and brown them lightly in 1 tbsp. olive oil (chicken is not going to completely cook– we just want a nice brown crust).  Remove chicken from skillet, add remaining 1 tbsp. olive oil, and sauté onion, mushroom, garlic, and sundried tomatoes until tender and fragrant.  Add lemon juice and white wine, stirring to combine.  Remove from heat and mix in rice, water, milk, chicken bouillon, salt, pepper, and basil.  Stir well to combine ingredients.  Place chicken thighs on top of rice, turning once to coat and moisten chicken.  Salt and pepper chicken pieces, to taste.  Bake in cast iron skillet (yep– it's a one dish wonder, folks 🙂 at 375 for 50-60 minutes, until chicken is done.
Now, in pictures! 🙂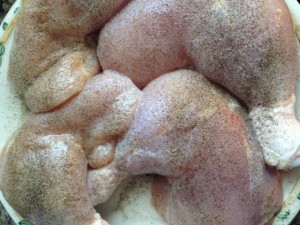 To start with, get out your chicken legs.  OK, OK.  You don't have to use chicken legs, if you don't want to.  Feel free to use chicken breasts, if you like . . . but chicken stays more moist if you choose chicken pieces that have the bone still in them.  You've been warned.  Lightly drizzle your chicken pieces with olive oil and sprinkle with salt and pepper.  If you choose to leave the skin on your chicken, sear the chicken in 1 tbsp. of your olive oil, to give it a nice, crispy golden crust.  I seared my chicken, but since it didn't have skin, I lost a little bit to the bottom of the skillet.  Oh well.  You win some . . . you lose some.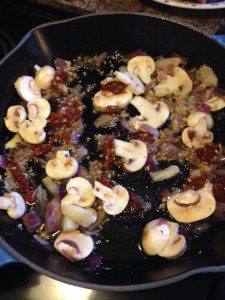 Take your chicken out of the skillet and set it aside until you're ready for it.  Patience is a virtue, little chicky.  We will be with you momentarily.  And please know that your call is important to us.
Go ahead and add the remaining 1 tbsp. olive oil to your skillet and sauté your onion, mushroom, garlic, and chopped sundried tomatoes until all that luscious goodness is tender and fragrant.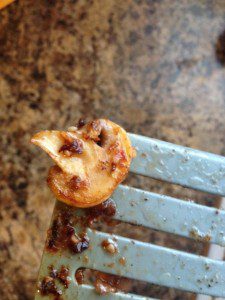 I pulled one sweet little mushroom from the pan to show you how you want them to look– golden brown with just a hint of color on the edges.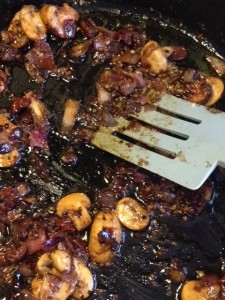 After your vegetables have gotten nice and tender, and your family is starting to congregate randomly around the stove to see what in the world smells so good, add your lemon juice and white wine, stirring to combine.  If you prefer not to cook with wine, chicken broth makes a fine substitute.  The skillet will bubble up and make this amazing, zesty smell.  Use the liquid and steam to deglaze the pan– basically just scraping the brown stuff off the bottom of the pan so that all the flavor comes back into your dish.  It might not look very good, right now . . . but the proof is in the pudding.  Er . . . chicken.  You know what I mean.  It will taste awesome, and that's all that matters.
Go and ahead and turn off the heat under your skillet. This recipe is great, because it truly is a "one dish wonder."  Oooohhhh yes. You get all that flavor, and you have only (*whispers*) one dish to wash.  Sigh. It's love.  Add in your rice, water, milk, chicken bouillon, salt, and pepper.  Stir everything in there, along with your sautéed vegetables.  Chop up your fresh basil and stir that in, too. The more the merrier.  Look at you– mincing and throwing fresh herbs into the skillet to make an amazing dinner.  And people said you couldn't do it.  Glad you didn't listen to them.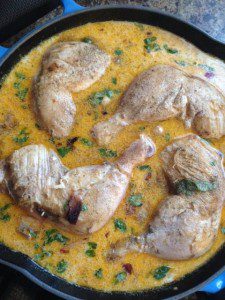 Go ahead and add your little sun-tanned chickies into the mixture, turning them once in the broth so that the top is moist.  Lightly salt and pepper the chicken so that it will be nice and flavorful.  My chicken legs lost a little meat off the top when I seared them (again, this could have been avoided if I'd left the skin on), but that's OK.  They cooked up so nice and golden brown you couldn't even tell.  Nice.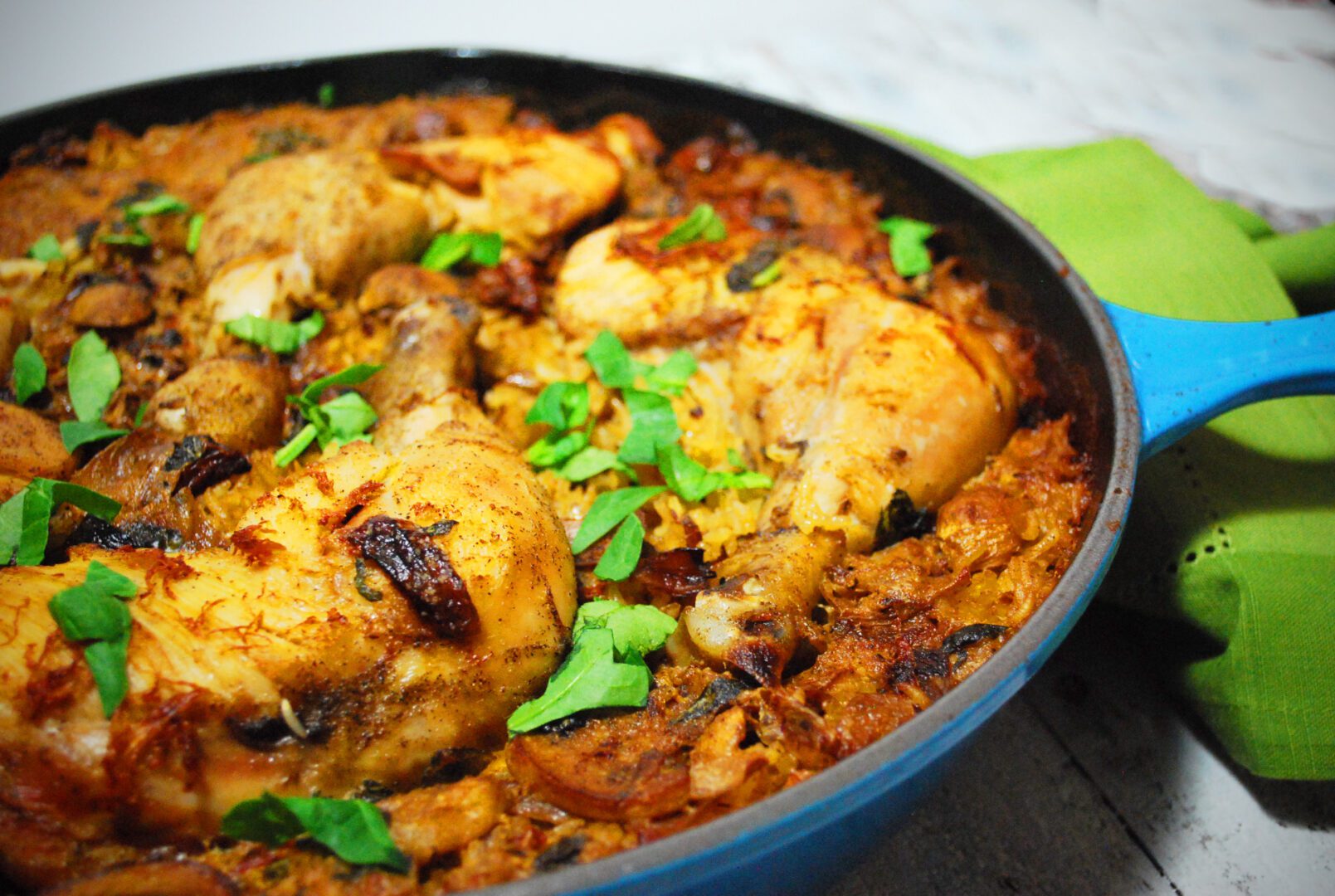 Bake your chicken at 375 for 50-60 minutes, until your rice is soft and the chicken is done.  Remember that the chicken won't take as long as bone-in chicken normally does, since we already gave it a nice pre-sear.  The rice takes about an hour to bake, and so does the par-baked chicken.  It's a match made in heaven.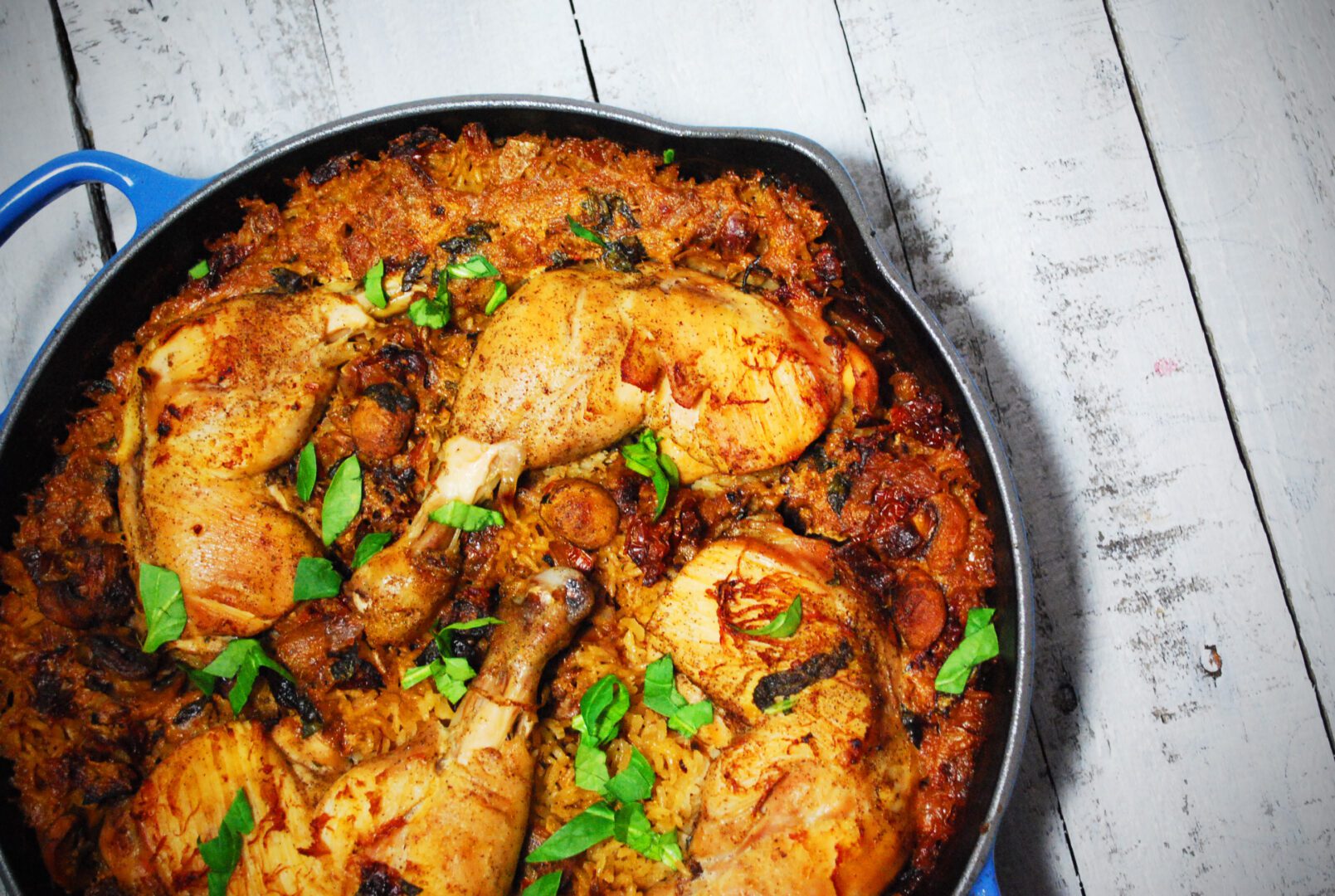 When the chicken is done, take your skillet out of the oven and sprinkle a few chopped fresh basil leaves on top. They are just so pretty.  Look at that gorgeous cast iron skillet and those fresh herbs!  Look at that golden chicken and fragrant, golden rice!  No one would ever believe that you just threw this together with what you had lying around your kitchen.
You're just so amazing.
Because you did it.  And I'm just so proud of you.
---

---
Disclosure: This post may contain affiliate links, which just means that we get a few pennies if you purchase through our link. I never recommend products that I don't personally use and love. Thanks!