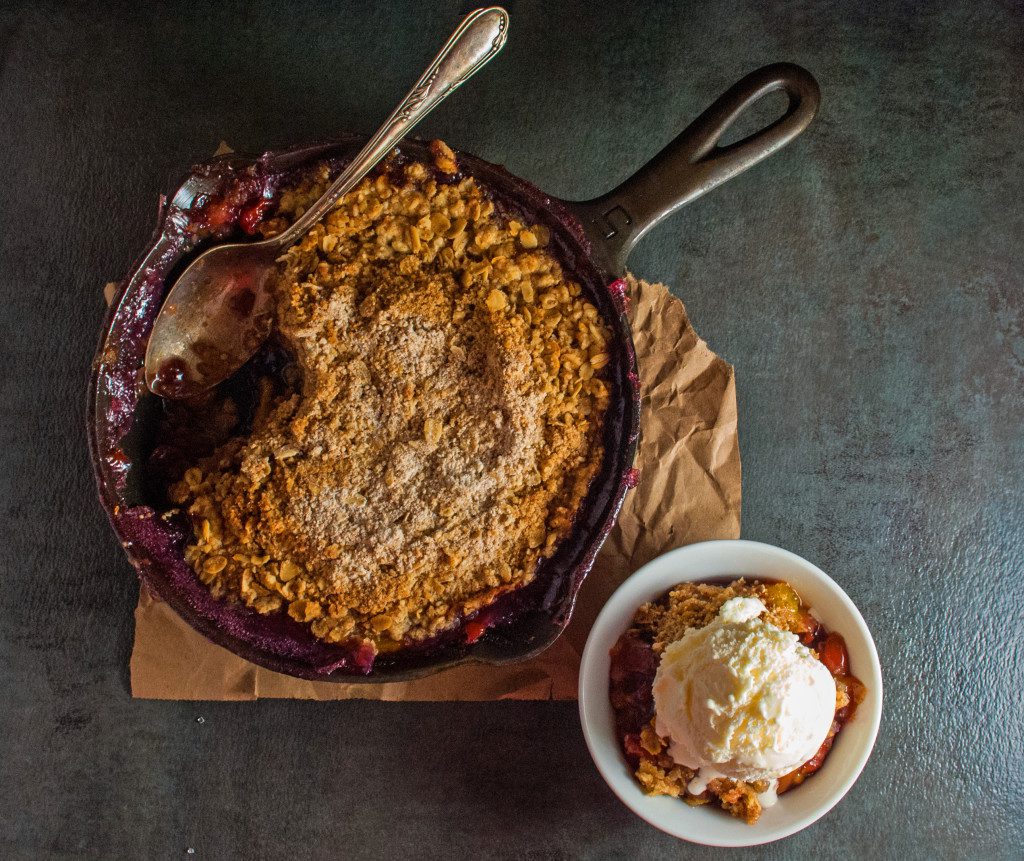 Crisps are the things from which beautiful, summery dreams are made.  With their dreamy, fruit-filled insides and crispy strudel topping, they beckon to us with the warm summer breezes of a tantalizingly close summer season.  The best part is that you can make a crisp out of almost any fruit that you have on hand, and you can stir the filling and then bake it, all in the same cast iron skillet.  This means ONE DISH TO CLEAN, folks.  That's right.  And the good 'ole cast iron keeps this baby hot and delicious so that you can have seconds still as ooey-gooey warm to melt your ice cream, as the first serving.  Sounds like a win/win, to me.
Today we also have a GIVEAWAY!  Yep– one lucky reader is going to win the #5 Griswold Cast iron skillet you see in the pictures.  To enter, like us on facebook, here, and leave a comment at the bottom of this post, telling me that you did.  A winner will be chosen on Sunday, so keep an eye peeled on your email, in case you win!  Good luck!  Be sure to check back to the site, often, as we have frequent giveaways, and lots of cool recipes, too!  🙂
And the winner is RAYMOND NORTH!  Check your email, Raymond, so we can get this beautiful Griswold skillet out to you ASAP.  Congratulations! 🙂
What are we waiting for?  Let's do this!
Pretty Peach and Cherry Crisp
(Original to me– feel free to use it up and change it up, but please link back here so no one steals my work 🙂
Ingredients:
1 15 oz. can sour cherries in water, drained
1 15 oz can peach slices in heavy syrup, undrained
1 tbsp. lemon juice (or the juice from 1 fresh lemon)
1/2 cup white sugar
1 tsp. almond extract
1/4 cup cornstarch + 2-3 tbsp. water
Crisp Toppings Ingredients:
1/2 cup all purpose flour
1/2 cup old fashioned oats
1/2 cup (1 stick) butter or margarine
1/2 cup brown sugar
1 tsp. cinnamon
Directions:
Combine drained cherries, undrained peaches, sugar, lemon juice, and almond extract together in cast iron skillet or saucepan.  Stir over medium low heat until mixture just starts to occasionally bubble.  Mix cornstarch with 2-3 tbsp. water until it forms a milky substance and stir into fruit mixture.  Continue heating and stirring for a few more minutes, until fruit mixture thickens to the consistency of pie filling.  Remove pan from heat.  To make crisp topping, use a pastry cutter to cut butter into flour.  Stir in other ingredients and smooth mixture over prepared filling.  Bake at 350 for 40-45 minutes, until filling is bubbling and topping is slightly melted and golden brown.  Serve warm with vanilla ice cream.  Accept worship from the diners.
Now, in pictures!  🙂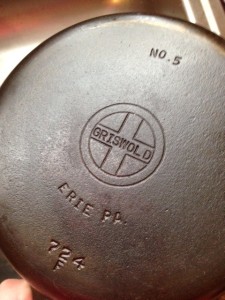 Collecting cast iron skillets is a hobby of mine.  I love finding old and interesting pieces at flea markets and antique stores.  The neatest thing about cast iron is that it "seals in" years of cooking– when you taste something cooked in a well seasoned CI skillet, you can literally taste history– the layers of seasoning that someone's grandma worked into that skillet over the last hundred years.  And food really does taste different when cooked or baked in different pieces– as if the skillets remember people and times that have long since passed.  It's just the coolest thing, ever.
Today I am using a vintage Griswold skillet that I found at a flea market and restored (it's a good idea to strip down a skillet when you don't know its origins, just to make sure).  It is circa 1940, or so, which means it's a stately Grandfather that has been cooking faithfully for over 75 years.  Griswold skillets hold a special place in my heart because they were manufactured in Erie, PA (my home state!), and they are widely recognized by collectors as some of the smoothest grained and best CI skillets ever made.  Sadly, the company was sold in the 1950s, but these classic pieces continue to last, just as good as the day they were made.  That's quality.  You name me any other pan that can go for almost 80 years and still go to bat for you as well as the day it was made.  The great thing about CI skillets is that you can use them on the stovetop, to make the filling, and then you can top them with delicious crumb topping and stick the whole 'shebang right into the oven.  It's just great and (whispers) saves dishes!!  Who doesn't love that?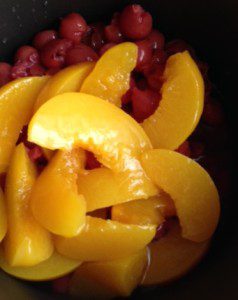 Let's start out by making our filling.  Get your skillet going on medium low heat and put in your drained cherries, undrained peaches, sugar, lemon juice, and almond extract.  We want the fruit to cook down a little bit and give up some of the juice.  The way to get nice, thick filling is to bring the fruit up to a nice hot temperature and then add the cornstarch.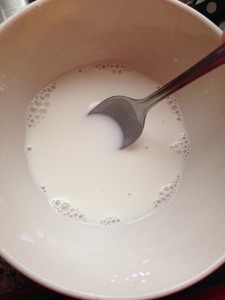 Cornstarch can be a hard little ingredient to work with– it's like the bully of the kitchen playground.  When you start mixing it with the water, it seems like cornstarch is going to be mean and doesn't want to play.  It will seem like it's turning to cement, at the bottom of your bowl.  But just keep stirring, and eventually it will combine with the water and become like milk.  Keep stirring the cornstarch right up until you add it to the hot fruit mixture so that it doesn't settle out of the liquid.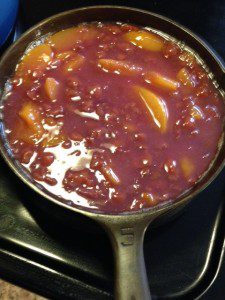 When the cornstarch is added, keep the skillet on low heat, stirring occasionally, until your mixture thickens up similar to the consistency of cherry pie filling.  While that is cooking . . . let's start on the crisp topping.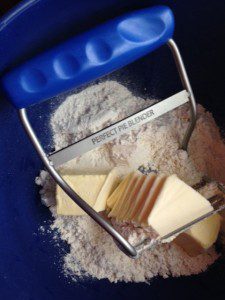 To make a nice, crumbly crisp topping, we need to cut the butter into the flour.  I love to use the perfect pastry cutter because it has a flat bottom, rather than the traditional curved one– it makes it much easier to get all the butter mixed in.  You can read more about this pastry cutter and where to get it here.  Cut the butter into the flour until you have chunks of butter the size of small peas.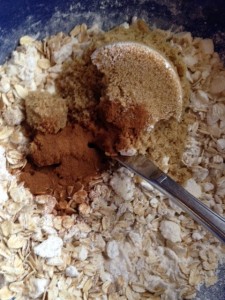 When the butter has been cut in (May I have this dance?  I believe I'll . . . cut in.), go ahead and mix in your old fashioned oats, brown sugar, and cinnamon. Stir everything together until it's combined into nice, beautiful crumbs.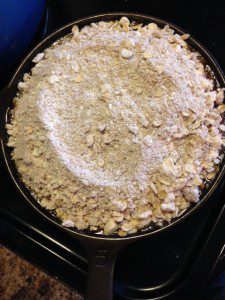 Next, pour (OK, heap) your topping onto the fruit filling you just made.  Yep– you can use that same, gorgeous cast iron skillet on the stove and in the oven.  It's a beautiful thing.  I would recommend putting a baking sheet underneath the skillet, because crisps sometimes run over.  Play it smart and save yourself the cleanup 😉  If you put foil over the baking sheet, you can pitch it after the crisp is done baking, zero cleanup required.  Yessssssss.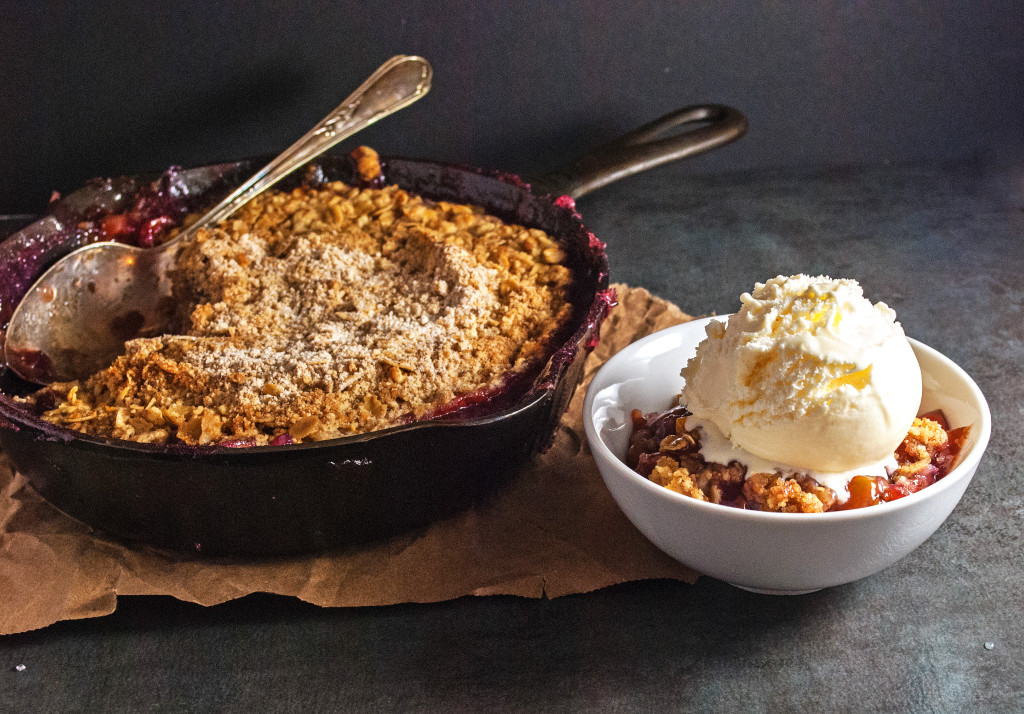 Bake the crisp at 350 for 40-45 minutes, until the topping is golden brown. If you still have a few crumbs in the center, that's OK. But the edges should be golden, and the filling should be bubbling and beautiful.  Dish up big bowls of crisp, steaming from the oven.  The fruit will smell absolutely amazing– sweet and delicious, with that gorgeous buttery topping.  Top the bowls with vanilla ice cream and watch it melt into a puddle of delicious, beautiful goodness.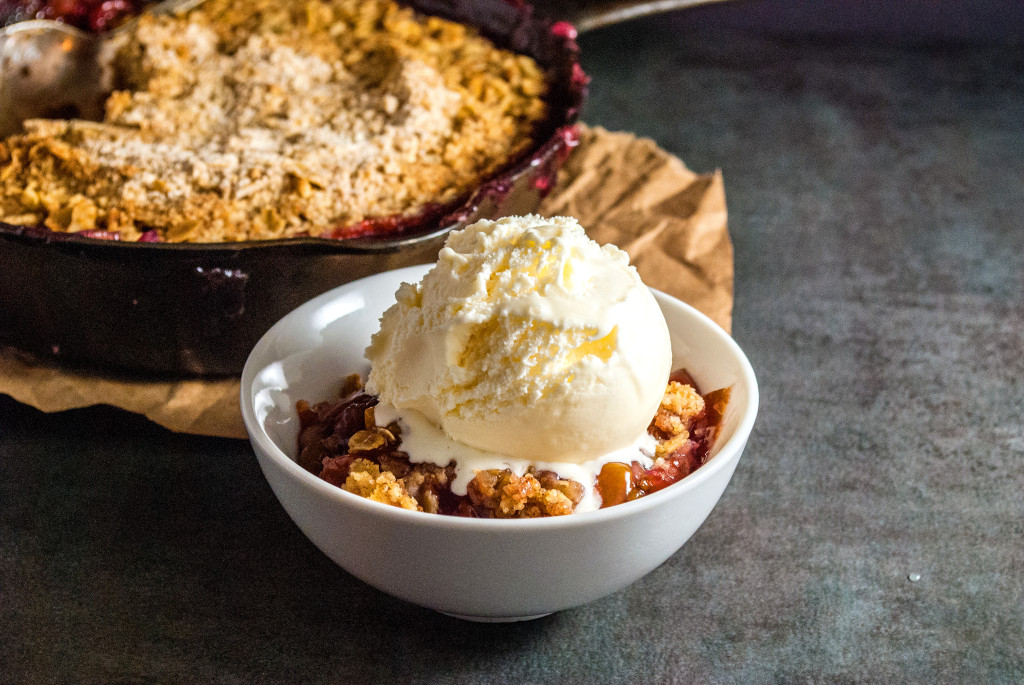 Take a bite.  Then another. Savor each one. These are the beautiful moments from which life is made.
Because you did it.  And I'm just so proud of you.
---

---
Disclosure: This post may contain affiliate links, which just means that we get a few pennies if you purchase through our link. I never recommend products that I don't personally use and love. Thanks!